Stanford is an idyllic town in South Africa, offering plenty of experiences and activities to keep you busy and entertained throughout the seasons. A short two-hour drive from Cape Town and a great pitstop on your way to the Garden Route, it's a must-visit for anyone who appreciates nature.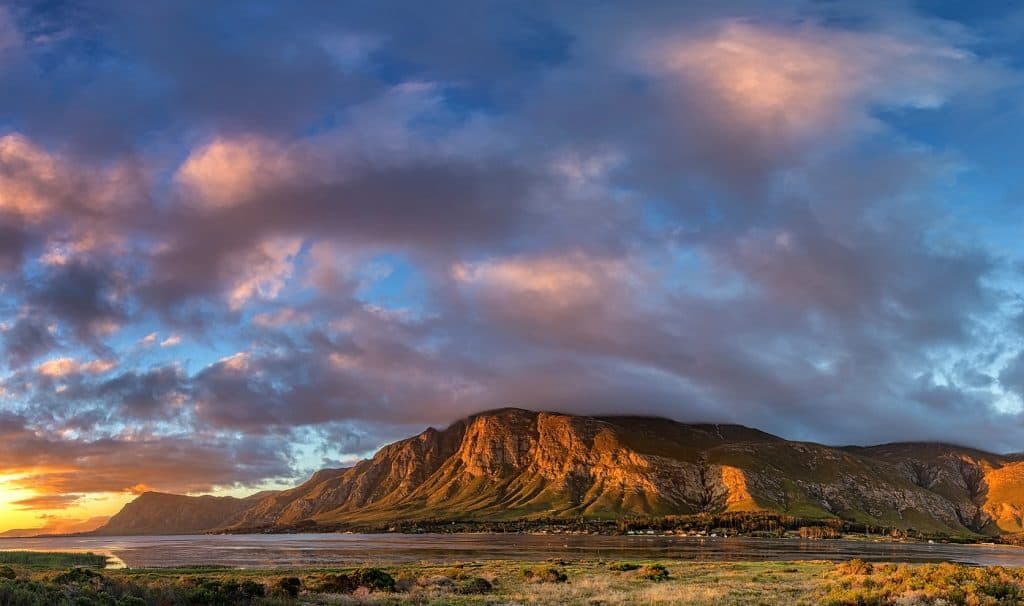 When is the Best Time to Visit Stanford, South Africa?
You can enjoy Stanford all year round, depending on the experience you're after. Like the rest of the Western Cape, the warmer dry months start in November and end around March, while the wet winter months are from May to August.
What to Expect When Visiting Stanford in Summer
When visiting Stanford during summer, make the most of the sunny weather by exploring the beaches in the area. Ensure your accommodation has a leisure area to soak up the rays during your stay.
Perivoli Lagoon House offers a sensational outside deck and infinity pool, creating the ultimate space to enjoy the warm weather and sip cocktails.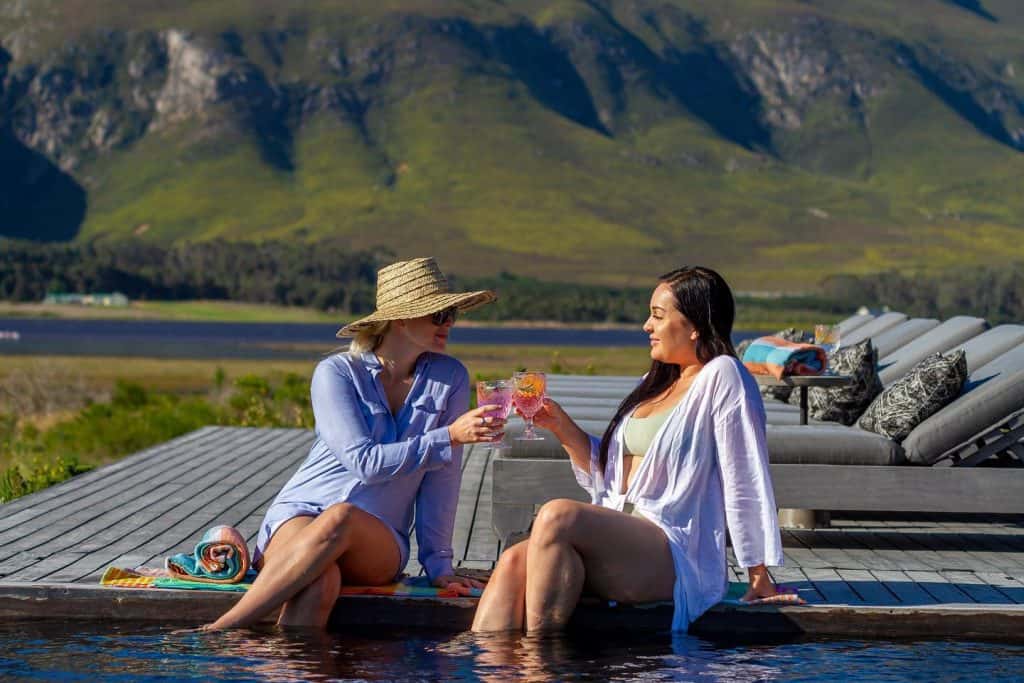 What to Expect When Visiting Stanford in Winter
The Western Cape has a winter rainfall and temperatures range between 18℃ (64℉) and 12℃ (54℉). Because it doesn't get too cold, you can still enjoy all that Stanford has to offer.
The heated pool and wood-burning fireplace at Perivol Lagoon House are especially enticing this time of the year. Nothing beats getting cosy in front of the fire, sipping red wine or hot chocolate with a good book in hand.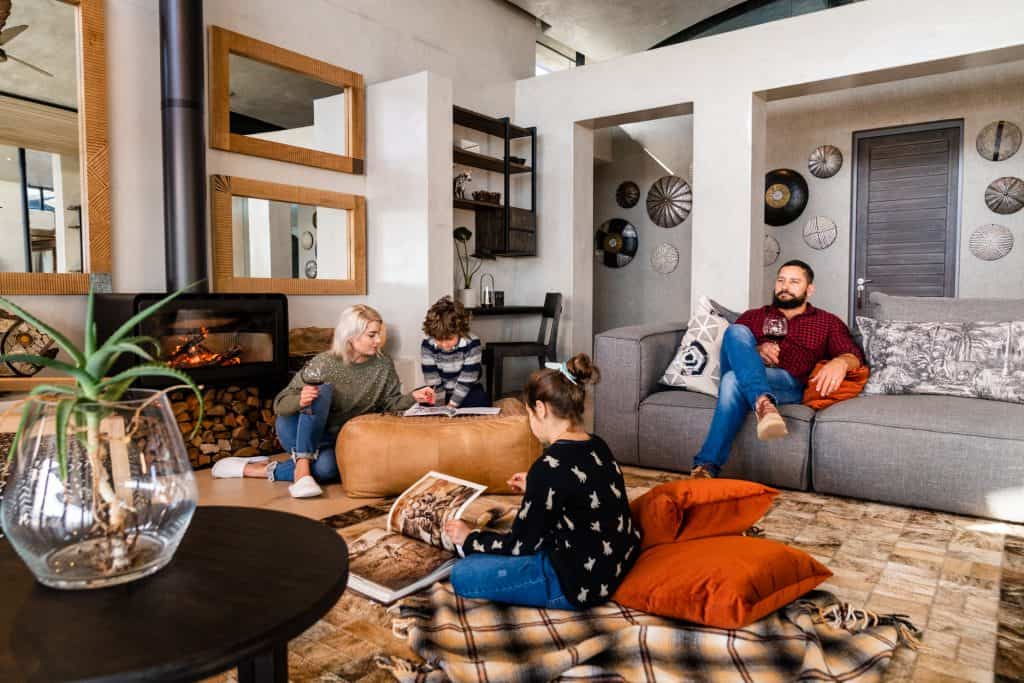 When to Visit Stanford for the Best Whale Watching
Stanford is situated along the Whale Coast, which is best known for its spectacular whale sightings. The migratory routes of the humpback whale and southern right whale follow the coast and can be seen from June to December. Whale watching is an unbelievable experience and attracts tourists from all over the world and locals alike.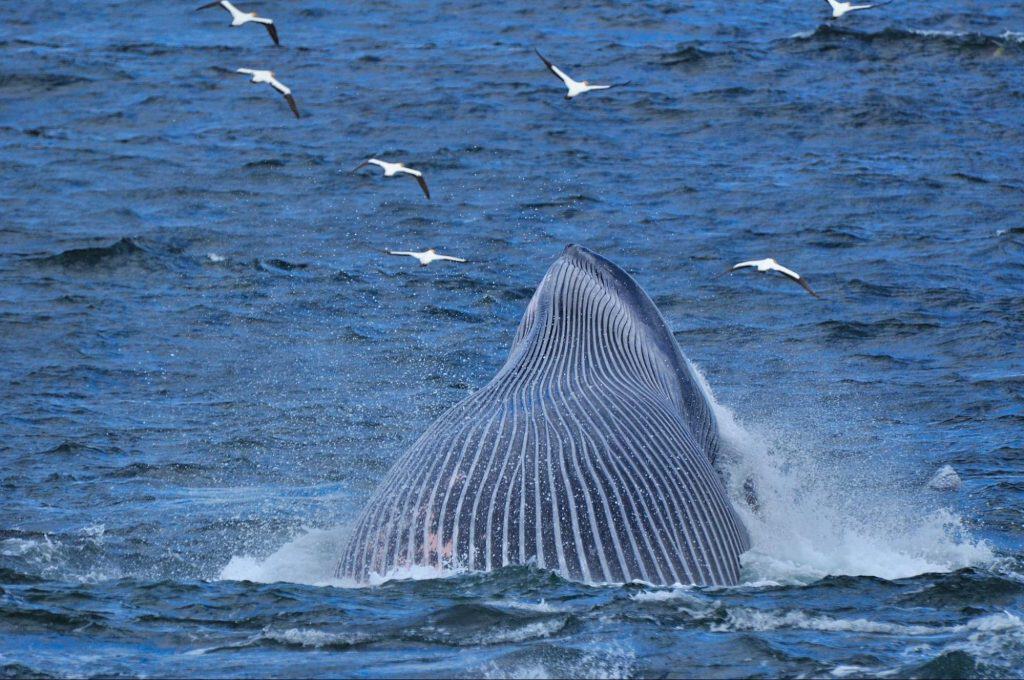 The annual Hermanus Whale Festival usually takes place from around the end of September to early October. Because Stanford is just a stone's throw away from all the action, it's an ideal place to stay without getting caught in the crowds.
Perivoli Lagoon House is the perfect exclusive-use accommodation if you want to enjoy the festival but retreat to a private setting at the end of an eventful day.
What to Do in Stanford, Western Cape Throughout the Seasons
The quaint Stanford village is on the Klein River and is surrounded by the picturesque Klein River Mountains. Here are just some of the activities you can enjoy throughout the different seasons.
Watersports Galore on the Lagoon
Take advantage of the lagoon with exciting water sports when it's hot, or dress warmly on the cooler days to enjoy paddling in a kayak. Sunrise and sunset cruises, enjoyed during the summer and winter months, are perfect for basking in the beautiful displays of nature.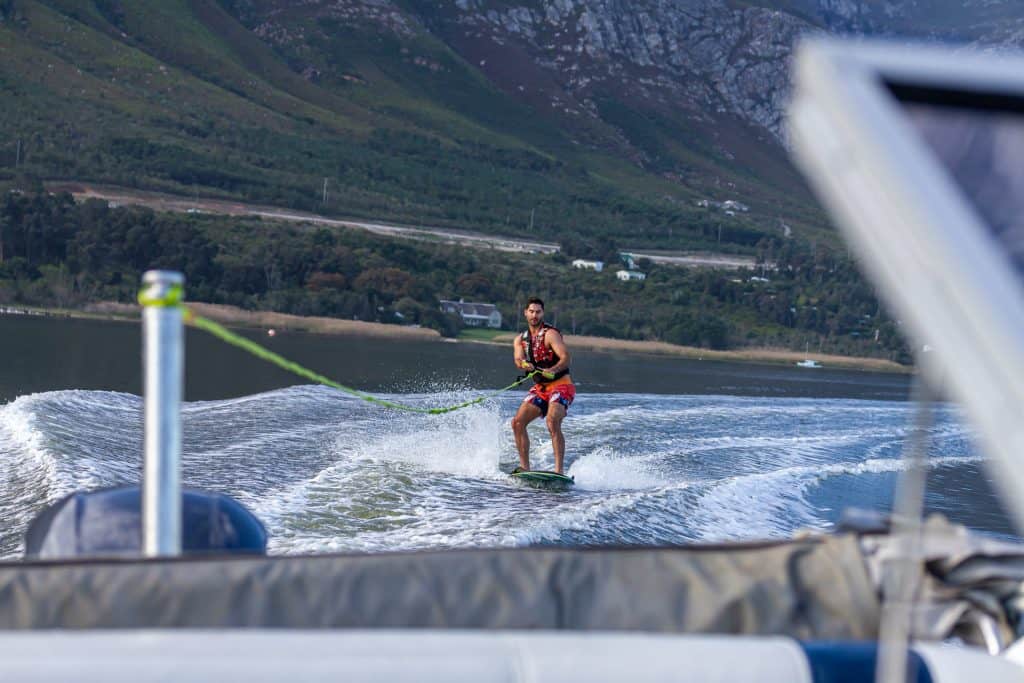 Sundowners on the Beach
Clink a drink as the sky turns pink on the ocean's horizon. Even if the weather is chillier, you'll thoroughly enjoy this excursion.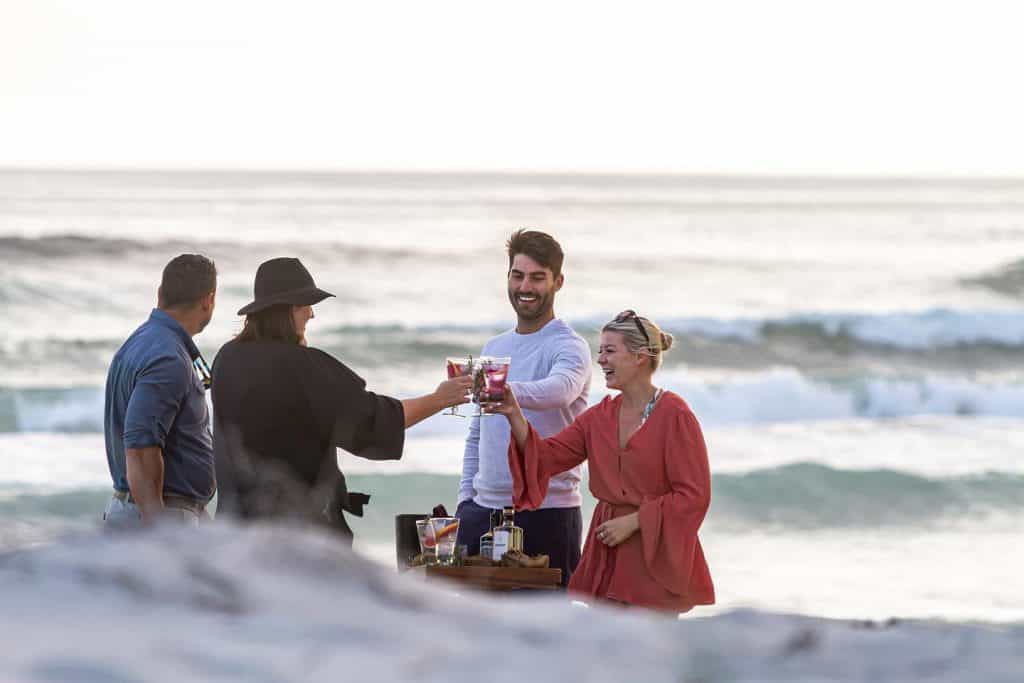 Hiking, Trail Running and Mountain Biking
Alternatively, experience nature up close by hiking through the nature reserve. The magnificent birdlife and the undisturbed flora are like no other. It's best to hike when the temperatures are cooler, so keep it for the colder months or go in the early morning before it's too hot in summer.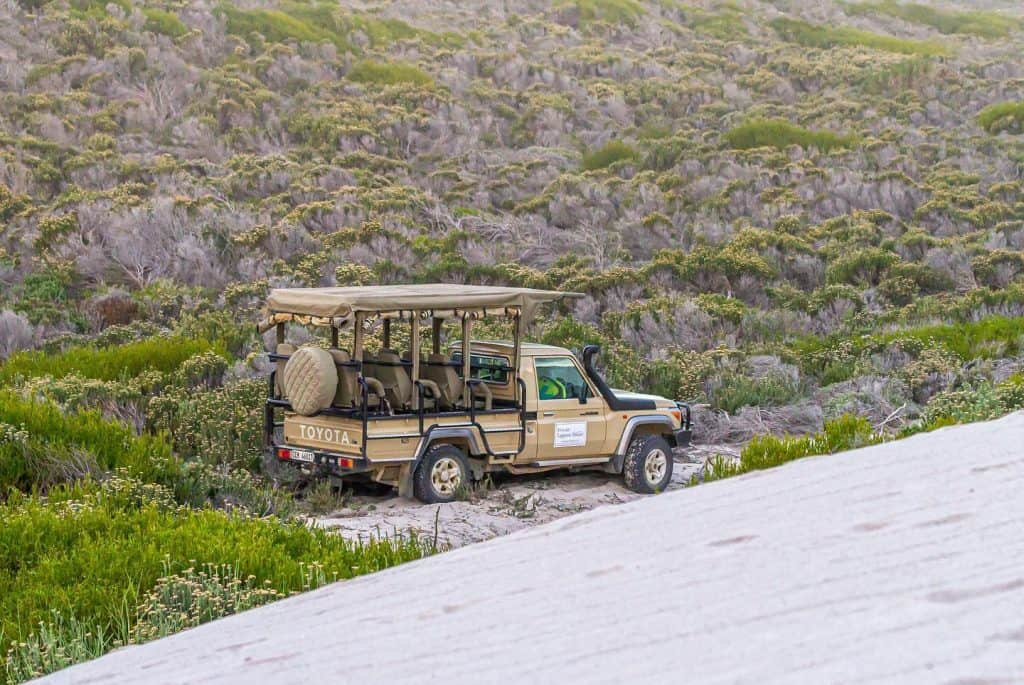 Perivoli Lagoon House offers guided drives, walks, hikes and mountain bike expeditions for those looking to learn a little more about their wild surroundings.
On rainy days, you can still get in a workout at Perivoli Lagoon House's in-house gym, boasting spectacular views.
Explore Like a Local
Take a walk through the small town to learn more about its rich history, stop at the charming boutiques along the way for unique finds or enjoy a coffee at one of the cafés.
Go Wine Tasting
Stanford and its surrounding areas are well known for their winemaking. Visit these wine farms for an indulgent experience of award-winning wine and breathtaking scenery. Sit outside to appreciate nature in the summer or around the indoor fires for intimate tastings when it gets colder.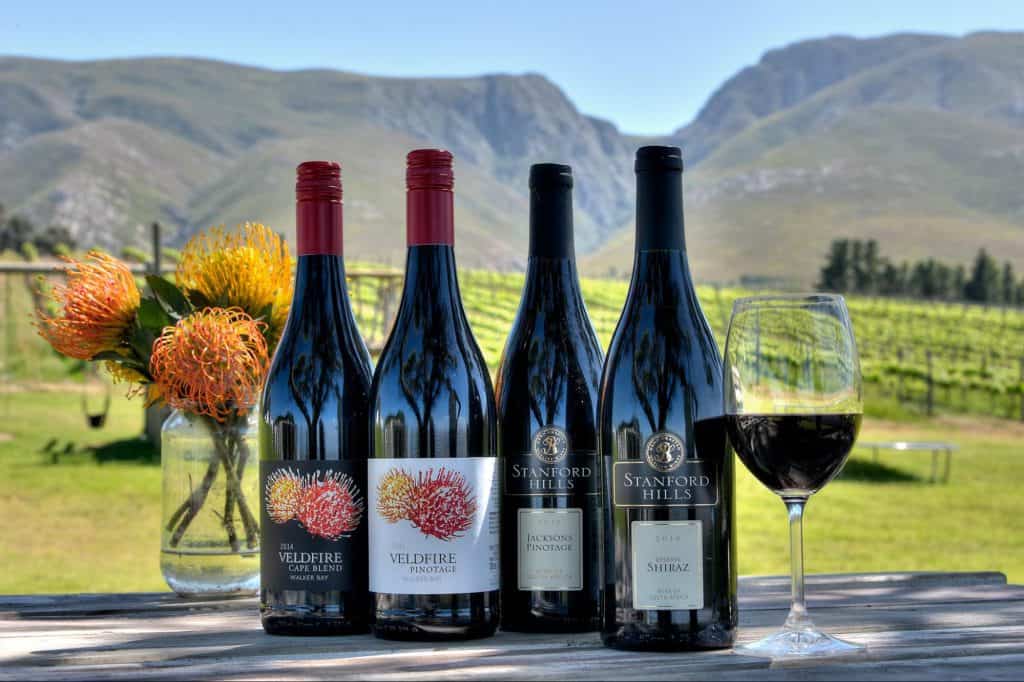 Visit Markets
Frolic is the small town atmosphere by visiting the Saturday morning market that offers all things local and handmade. This market takes place all year round, so pack your sun hat or raincoat depending on the season.
Dine out (or in)
Relish in the plethora of dining experiences that Stanford offers. We've created this list so you won't miss out on them. Alternatively, indulge in a culinary feast right from Perivoli Lagoon House when it feels too cold to venture into town.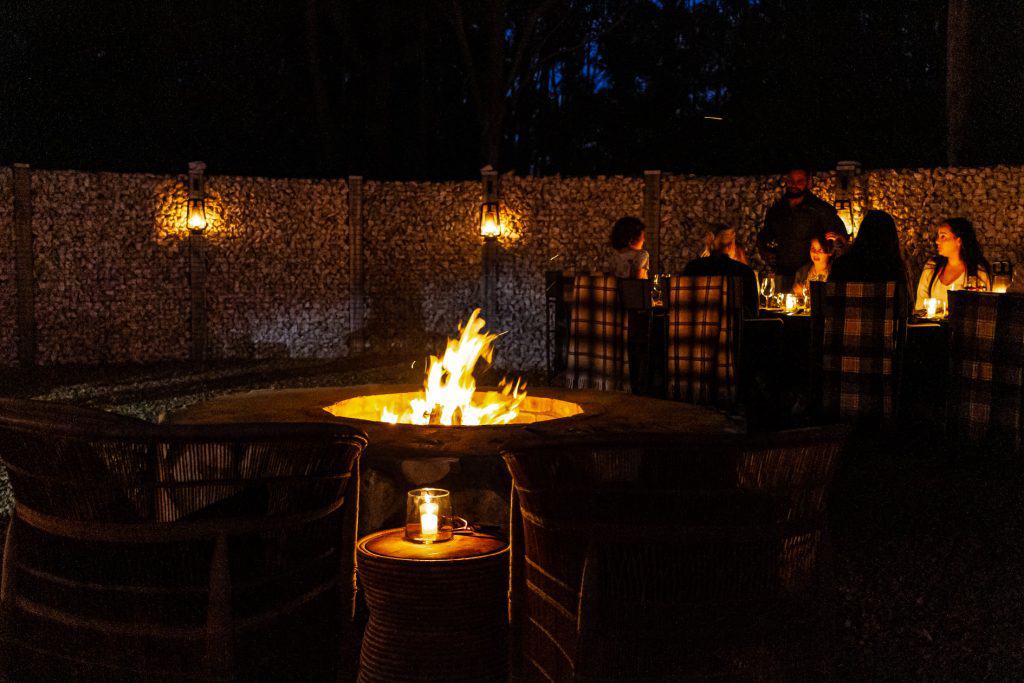 Where to Stay in Stanford
Come rain or shine, Stanford boasts exceptional experiences for the whole family. Why not enjoy this beautiful, idyllic spot while staying at Perivoli Lagoon House?
A quick 10-minute drive from town will place you in this luxurious wonderland with many activities to love all year round. This four-bedroom exclusive-use villa could be your Stanford home whether you visit with your family or friends.
Perivoli offers a self-catering or an all-inclusive option with an in-house chef to cater to your every need. With ceiling fans, outdoor dining areas, and glass doors that open up onto the deck, Perivoli Lagoon House is a summer's dream. But once it gets colder, it's transformed by its indoor fireplace, underfloor heating and pellet stoves in every bedroom to keep you warm as you make memories to last a lifetime.
Get in contact to book your stay at Perivoli Lagoon House and savour every moment.