Perivoli Lagoon House is a destination on its own, but if you're looking to explore the area, there are many extraordinary places to visit near Stanford. When staying at Perivoli, there are numerous nearby destinations to add on to your stay, or to visit on a day-trip. Visit nearby Hermanus – the seaside town famous for whalewatching, or Gansbaai – most notable for its thrilling shark-cage diving. A slightly longer drives takes you to the iconic Hemel-en-Aarde Wine Valley, waiting to be explored. And if iconic Cape Town is included in your itinerary you're in luck – Perivoli Lagoon House is a mere 2-hour drive from the Mother City. So what are you waiting for? Your dream holiday awaits!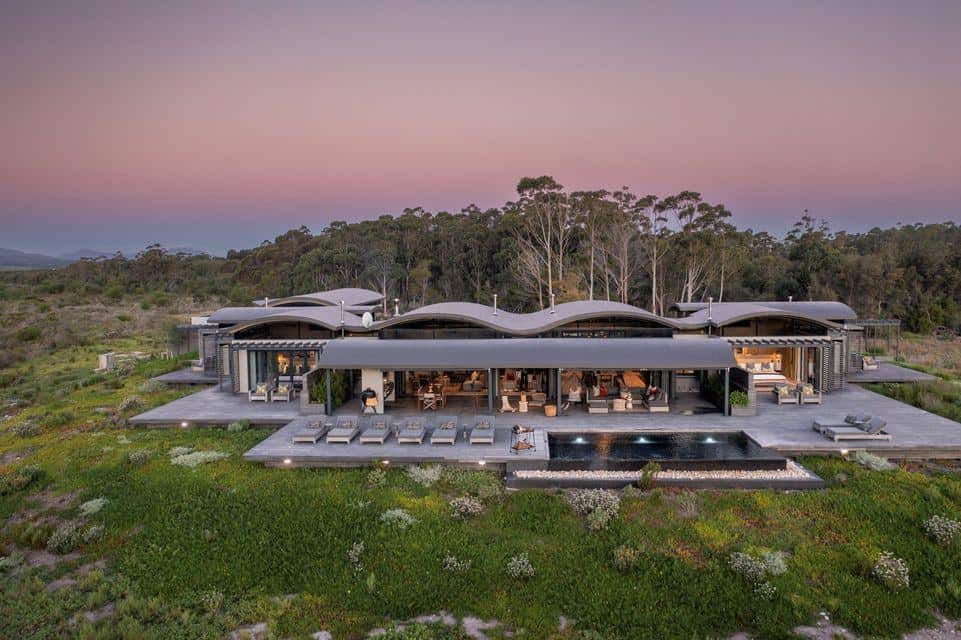 Say Hello to Hermanus: 30 Minutes Away
Hermanus stretches along the coast, between towering mountains, surrounded by the grandiose splendour of nature. This coastal resort town is best known for its spectacular whale watching, but also offers various unforgettable experiences on the edge of Walker Bay, including shark cage diving, hiking in the mountains and a charming town center. This makes it a consistent favourite amongst locals and internationals alike, especially those looking for a slower-paced seaside holiday in a charming town.
Hemel-en-Aarde Wine Valley: 45 Minutes Away
Just outside of Hermanus the 20-km Hemel-en-Aarde, or 'Heaven and Earth'wine route, makes for a perfect day exploring wine farms that not only produce South Africa's best cool-climate wines, but also offer some of the best views of the Overberg region.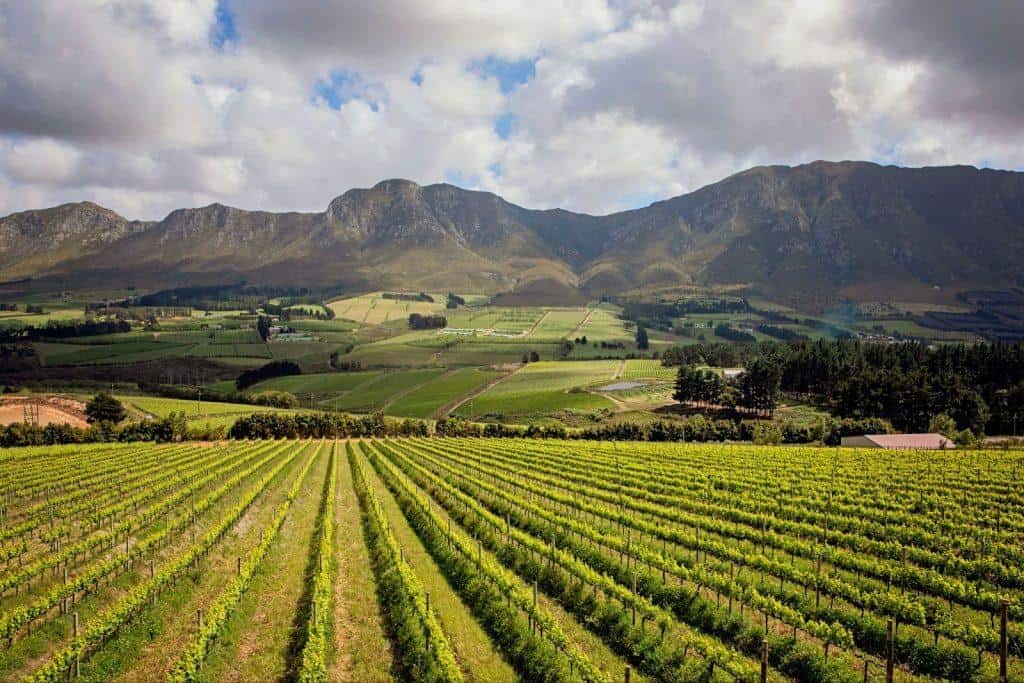 Hemel-en-Aarde is widely regarded as one of the more interesting wine areas in South Africa and certainly one of the most beautiful. For many, it is the best place to find classically-styled South African Pinot Noir and Chardonnay varietals. Falling within the Walker Bay District, it is comprised of three "wine wards" and is surrounded by stunning nature reserves, overlooking the South Atlantic Walker Bay, and a perfect day-trip visit for the whole family.
Serenity at Gansbaai: 30 Minutes Away
Nearby Gansbaai, famous for its shark-cage diving experiences, also awaits. You can take a look at the Whale Route map below to orientate yourself when planning your adventure along the whale coast.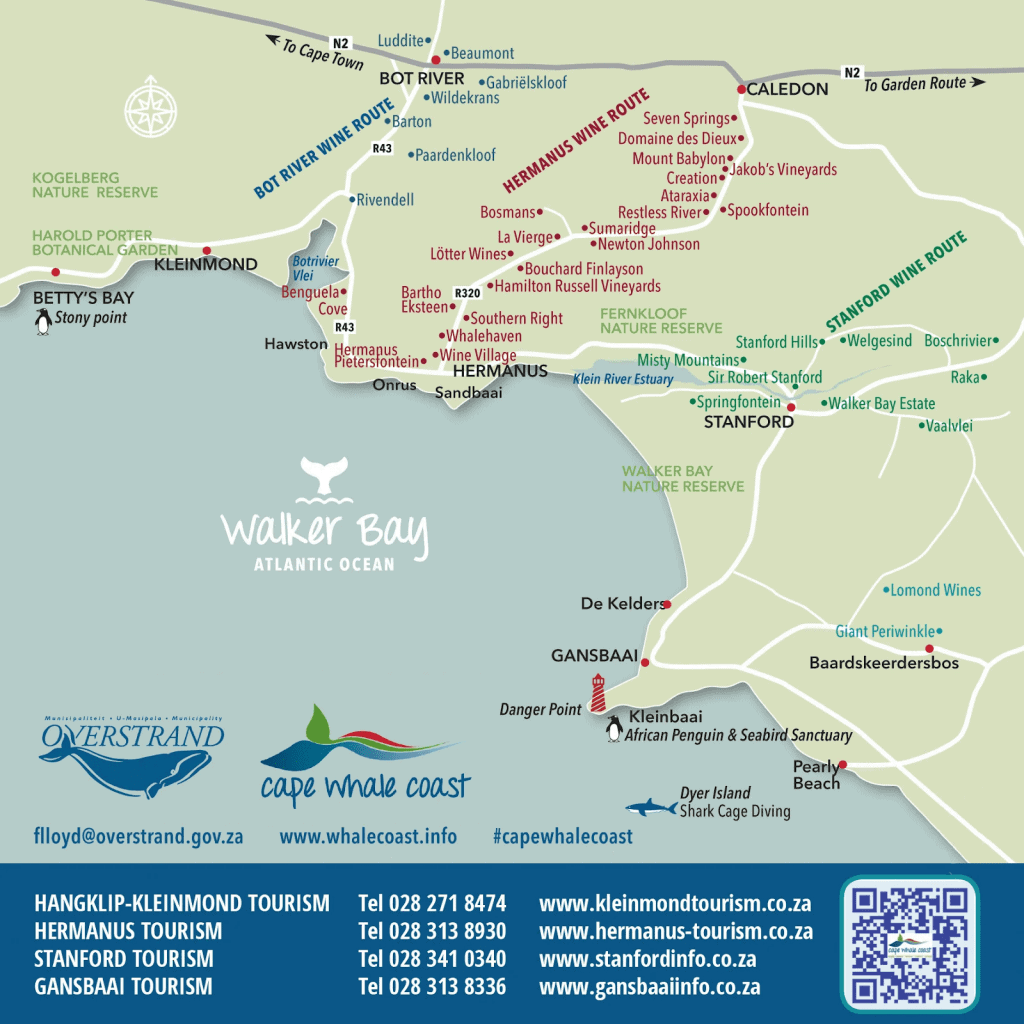 Gansbaai also offers easy access to the quaint towns of De Kelders and Pearly Beach – a haven of endless pristine beaches and indigenous fynbos covering the dunes, and a picturesque fisherman's paradise and must-see destination. Pearly Beach caters to every fancy with various curio shops, quaint restaurants, and guesthouses.
A drive to Pearly Beach promises open stretches of white sand beach, ideal for swimming, long hikes, cycling and other sandy activities. From July to December, the Southern right whales and their calves can be seen playing close to the shore. And if you're a keen birder, you'll be delighted to learn that this charming town also boasts abundant birdlife.
Iconic Cape Town: 2 Hours Away
There is no doubt that Cape Town is a must-visit destination, offering endless activities, sights and wonders for both locals and international visitors. Natural wonder, beaches, fine dining, art, history – there is truly something for everyone. And Only 2-hours' drive from Perivoli Lagoon House, Cape Town is an ideal destination to add to your itinerary, before or after staying at Perivoli Lagoon House.
Book Your Stay at Perivoli Lagoon House
For a luxurious getaway, hidden from the crowds and surrounded by natural grandeur, book your stay at Perivoli Lagoon House today as part of your adventure along the coast of South Africa. Invest in memories that will last you a lifetime with your closest family and friends to share in the delight. Book your stay today!