While it can be difficult to leave the luxury of Perivoli Lagoon House, if you're looking to explore the surrounding area, Gansbaai is a popular destination to visit. From diving with sharks to sunset rides amidst splendid seaside scenery, your entire family will feel revitalised after a day trip to Gansbaai, which can easily be taken during your luxury getaway at Perivoli.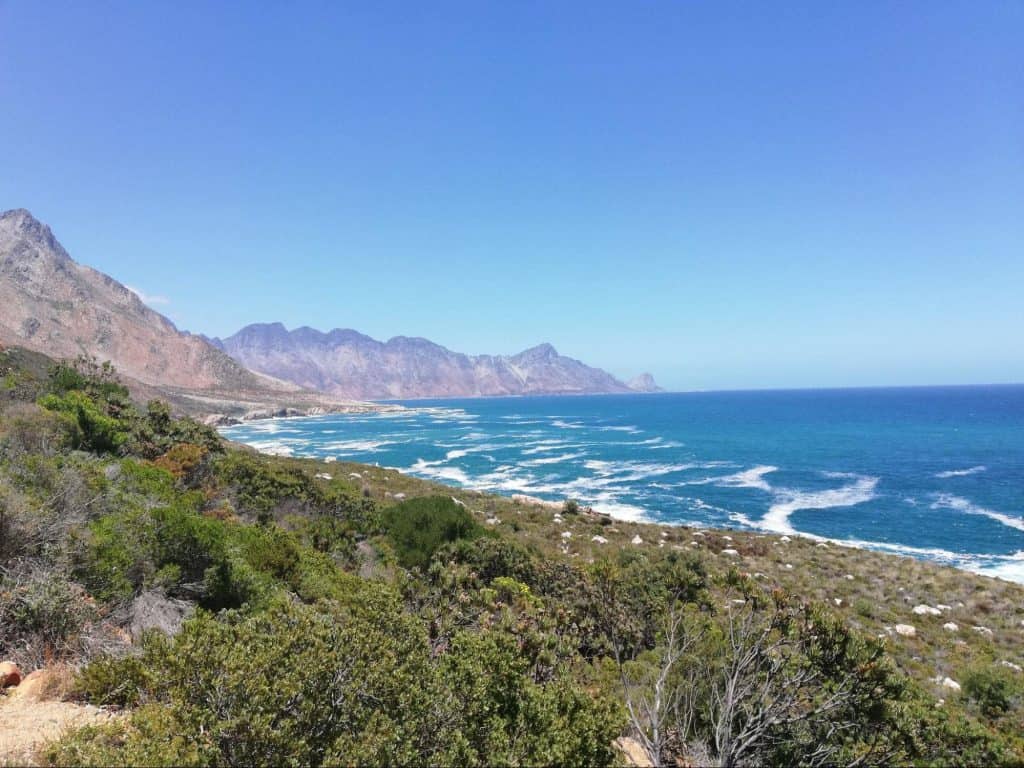 Immerse Yourself in Gansbaai's Unforgettable Experiences
Only a short 30-minute drive from Perivoli and situated in an oasis of spectacular fynbos, Gansbaai offers you everything from adventure to farm-fresh cuisine. Whether you like to get an adrenaline rush from your holiday or you prefer to unwind with a glass of wine in hand, the memories you make in Gansbaai will stay with you for a lifetime.
Shark Cage Diving in South Africa's Gansbaai
With plenty of sharks around Dyer Island, Gansbaai is often referred to as the Great White Capital of the World. So, there's no better place to tick this bucket list item than beautiful Gansbaai. The best chance to admire a Great White up close is from June to September.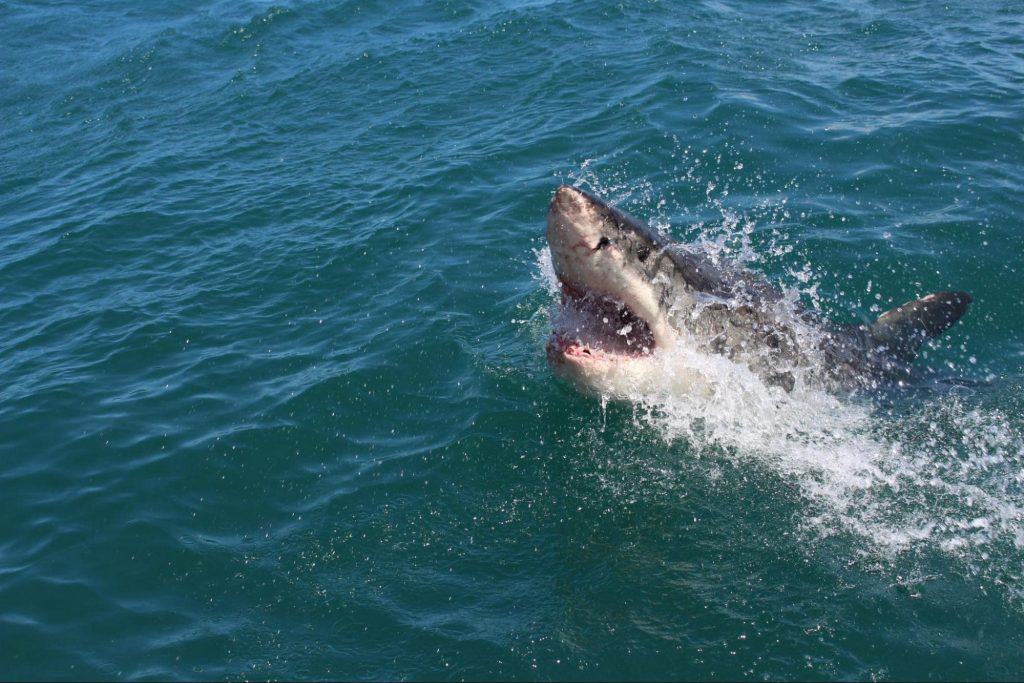 Watch the Whales of the Overberg in their Natural Habitat
Situated near the whale-watching capital of the world, Gansbaai boasts ample opportunities for whale sightings from June through to December. You can embark on a whale-watching cruise or sit back and enjoy the view of splashing whales from dry land. Either option will take your breath away once you see these majestic giants in action.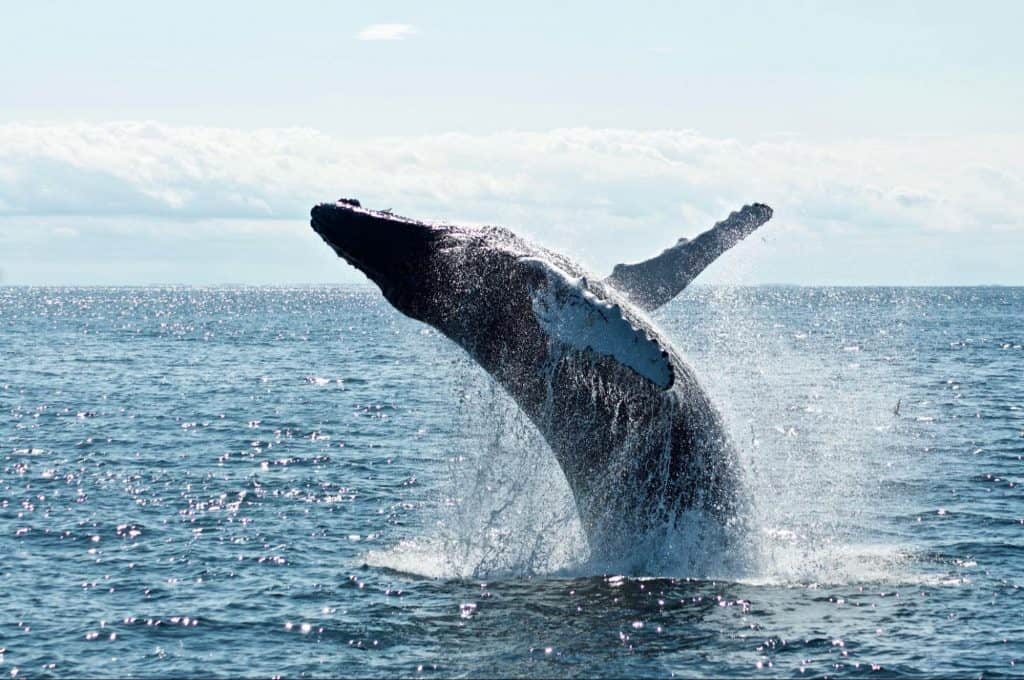 Admire the Sunset with a Ride Along the Beach
Want to watch the South African sunset but like to keep moving? When you can go horseback riding or fat biking on the beach, there's no reason you can't do both.
Fat bikes are designed to glide effortlessly over the sandy dunes. Breathing in the sea air, you won't even realise you're getting a workout.
On the other hand, there's nothing quite like riding on horseback, especially when surrounded by golden dunes, soaking in the striking fynbos and glorious mountain views.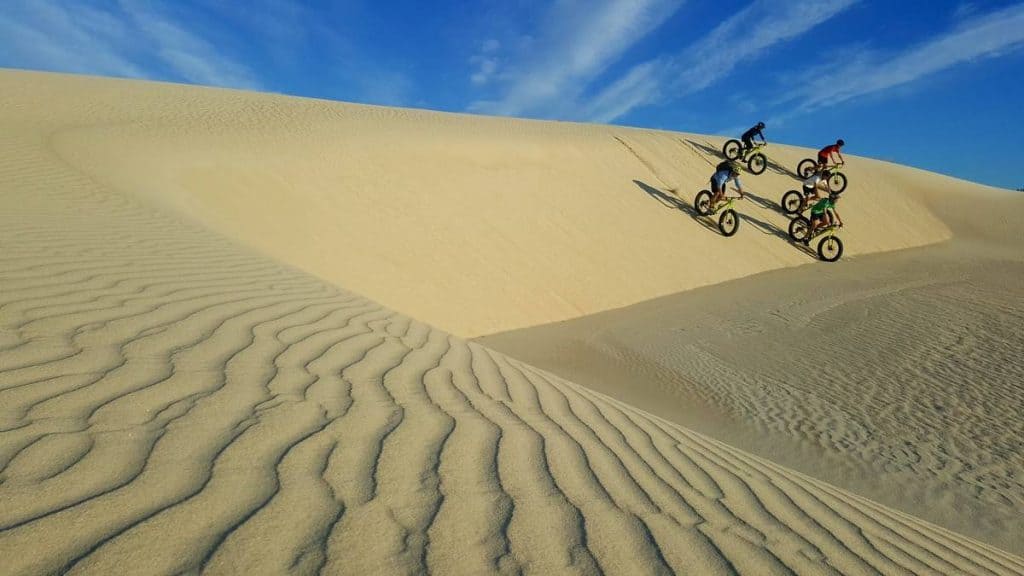 Enjoy Seaside Fine Dining in Gansbaai
For catch-of-the-day seafood and farm-fresh ingredients, delight yourself in one of Gansbaai's fine-dining gems. Enjoy the sumptuous food with a glass of fine Overberg wine in the company of friends and family, and the hours will fly past.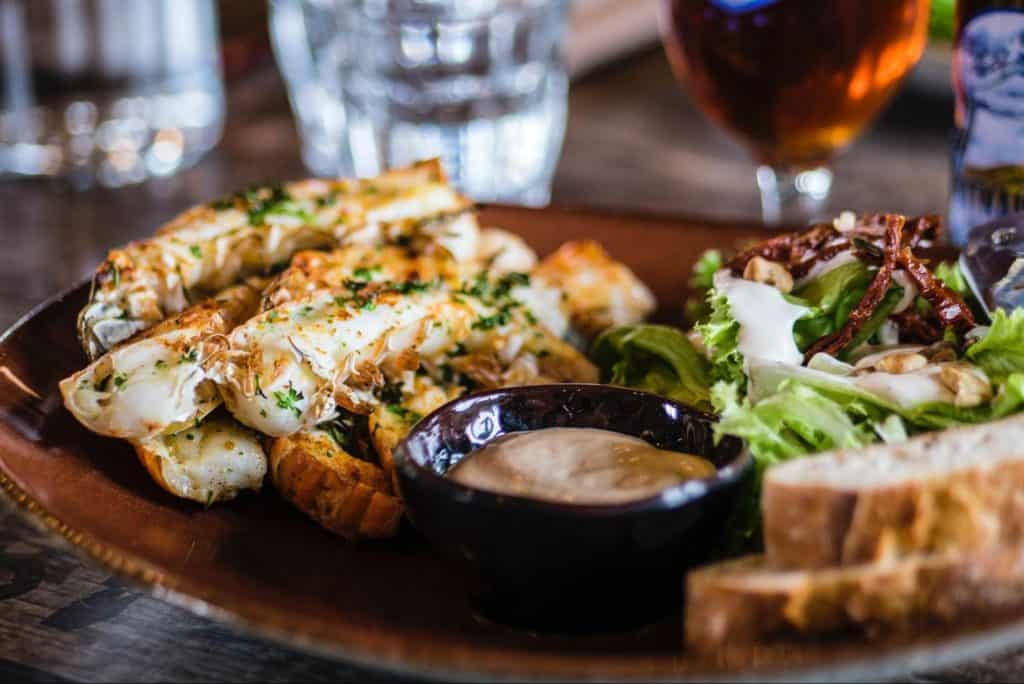 Discover Wine Estates in Gansbaai
Visit Lomond Wine Estate in Gansbaai for stunning views of the valley and vineyards, and, of course, fabulous wine tasting. To experience more of the wine the area has to offer, check out these wine farms in nearby Stanford.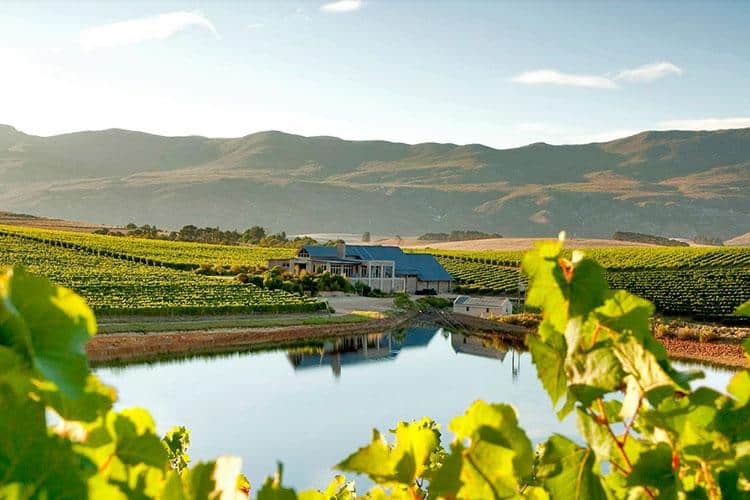 Tour the Klipgat Caves in De Kelders
Explore the home of ancient civilisation inside the Klipgat Caves in De Kelders. The remarkable limestone formations offer a window-like opening over the Walker Bay coastline, making it the perfect place to stop and take it all in.
Explore the Nature-Inspired Gansbaai Art Galleries
Unsurprisingly, Gansbaai's magnificent surroundings have inspired many artworks. Home to several art galleries, why not visit Gansbaai for the masterful depictions of fynbos and seascapes? You might find the perfect piece to help you remember your visit.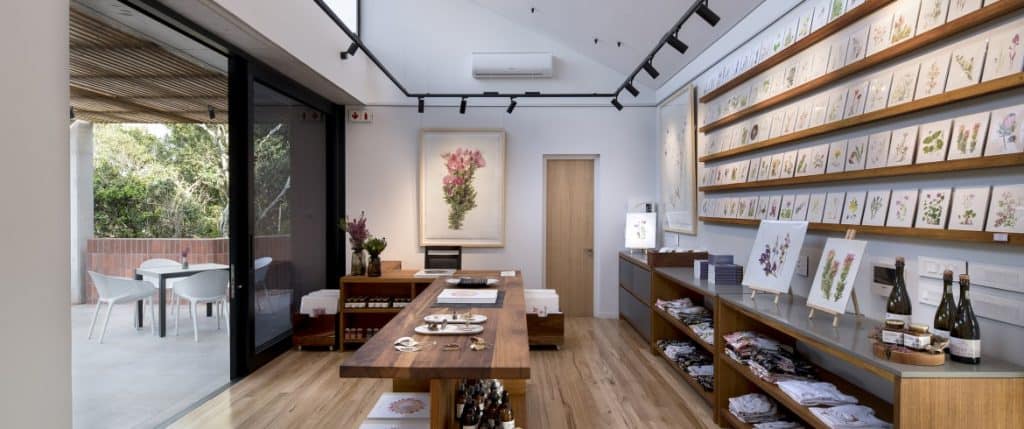 Take in Gansbaai's History at Danger Point
After the Birkenhead shipwreck of 1852, famous for being the first time the "women and children first" protocol was implemented, the need for a lighthouse was clear.
Unveiled in 1895, the lighthouse has been in use ever since. Explore more of the area's history when visiting the stately Danger Point lighthouse.
Experiences to Last You a Lifetime
Whether for its famous shark cage-diving or fine food, the gripping history or magnificent surroundings, visiting Gansbaai for only a day will not leave you unchanged. And even if you don't get a chance to visit, most of the activities Gansbaai offers can be experienced at Perivoli Lagoon House, a true destination within a destination, offering the very best experience of South Africa's famed Whale Coast.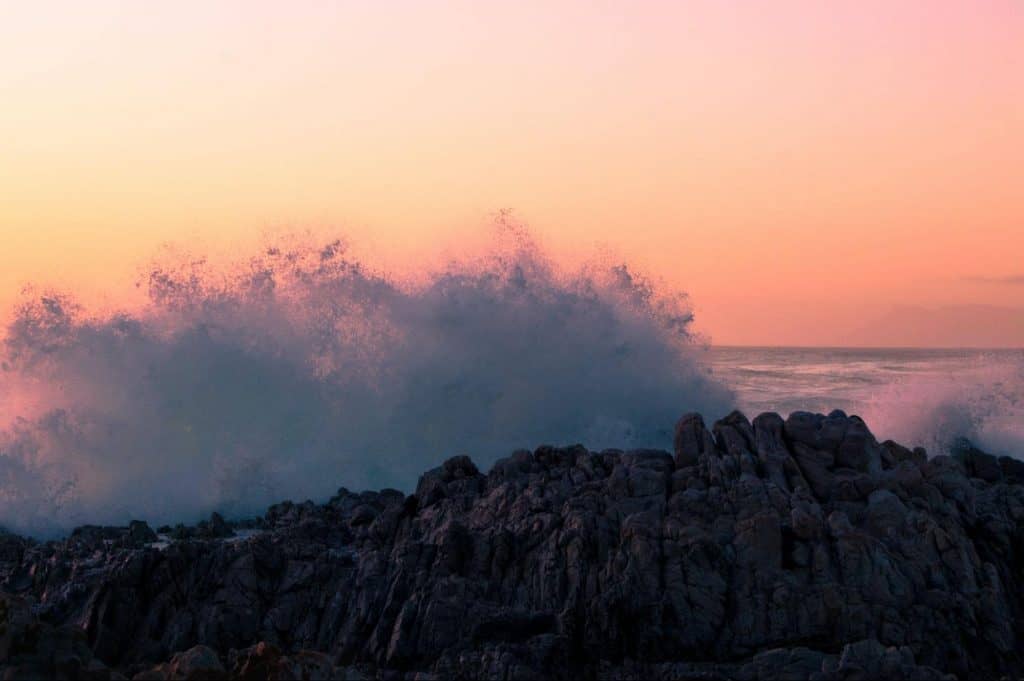 Book Your Luxury Accommodation in Gansbaai Area
Whether you're looking for accommodation near your wedding venue in Gansbaai, a romantic breakaway, or some quality time with your nearest and dearest, Perivoli Lagoon House is the perfect luxury home away from home.
After an eventful day of exploring Gansbaai, return to Perivoli Lagoon House to spend your evening in front of the open living room fireplace with a glass of wine and panoramic views – the perfect way to end this exhilarating day.
Reach out to our team if you have any questions or book your stay online today.